We create websites

with unique experiences
that guarantee more conversions
We received the
Brasil Design Awards


for excellence in the development of major projects.
We create


Digital experiences
Designing interactive interfaces through attractive content that boosts your lead capture and conversions.
Our sites are designed in every detail to provide a unique experience, inserting every photo, button and icon in the exact place where they will convert.
All this without neglecting search engine rankings and offering fast, intuitive navigation focused on the user experience.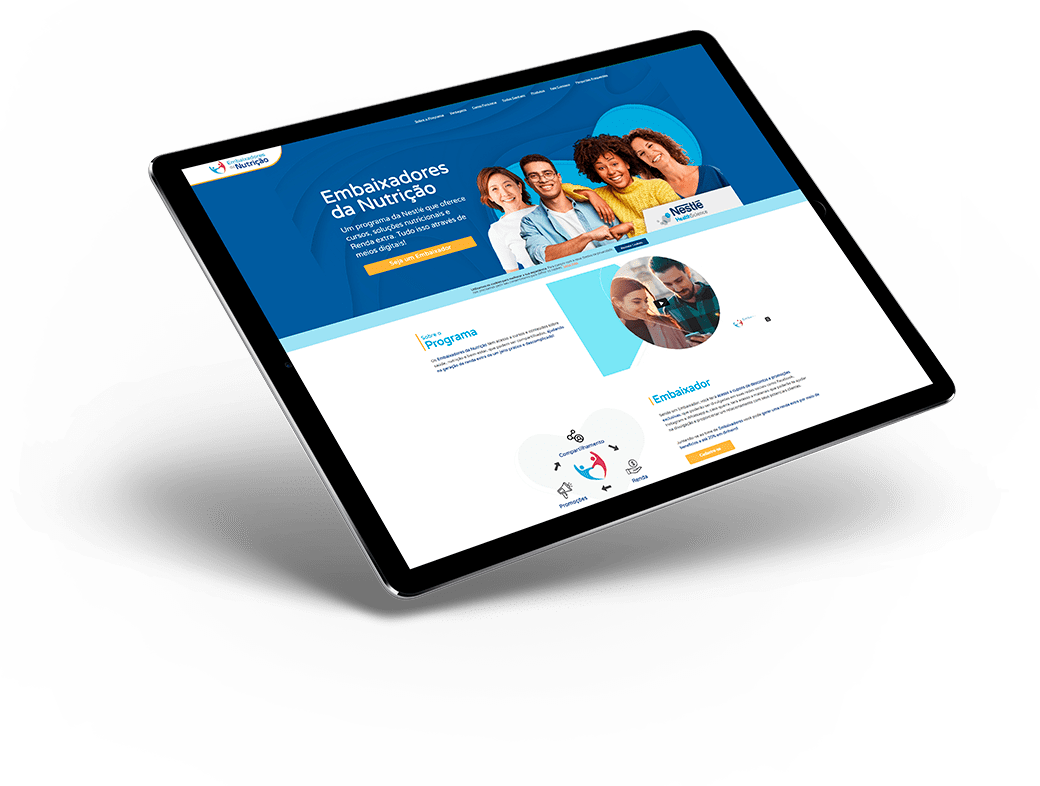 Receive more contacts
through a planned website
to generate conversions
We develop incredible interfaces with every detail in mind to provide your brand with a modern and efficient platform, capable of delighting and attracting more results.
To do this, we provide complete tools with heat maps, footage of customer actions and access, region and profile metrics to guide your decision-making.
We offer the main trends so that your brand has a website that stands out from the competition, with modern color combinations that convey your essence.
We will work side by side to turn your dream brief into a real project that exceeds your expectations, no matter how many edits you need.
We go beyond the basics to create and place, on each screen, the perfect description of your services that will make your customer understand that your brand is the right one for them.
With our SEO experts, each piece of content will be able to put your brand at the top of searches and increase your results and conversions.
We turn ideas into real projects, working on every piece of code to offer an attractive experience in all web languages right through to publication on your www.com site.
Leave the hard part to us and just decide between the best layout and performance options.
with a maintenance panel at your disposal to make adjustments whenever necessary.
We offer support and instruction on the main tools to make them easier to use.
A platform

fast, intuitive and secure
for all types of screen
Attention
in every detail
Whether it's a corporate website, e-commerce or application,
we have the knowledge, professionals and technologies needed for flawless development using all web languages.
We create secure and 100% responsive websites for all devices.
Everything to facilitate usability and provide a modern, practical experience that will result in more engagement and sales for your company.
No matter how big or small the challenge, we build the perfect platform for you.
A tour full of magic
and flavor without leaving home.
We developed the Garoto factory tour website using the best UI/UX resources, combining beauty and usability to increase sales.
We developed the website for the Nutrition Ambassadors program, which brings together people who believe in healthier eating and still receive extra income during the pandemic.
A project for people committed to reducing social inequalities by promoting access to education for black, brown and indigenous young people.
"We had a great experience working with
CMLO

&

CO
. From the initial contact, we were promptly attended to and given the information we needed to make the best choices for our website. During development and implementation, the same quality of communication was maintained, and the team was always available to answer questions and respond to our requests. We are very pleased with the end result!"
Shall we work together on your next project?
Come and have a coffee with us.